THE ALL ROUNDER.
Genuine Accessories Available
X400 FRONT PROTECTOR BAR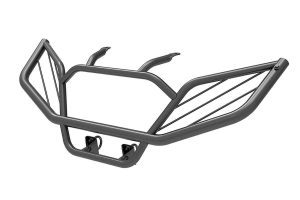 X400 ALUMINIUM WINCH GUARD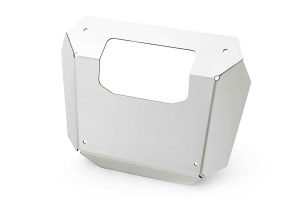 CF MOTO X4 FULL ARMOUR KIT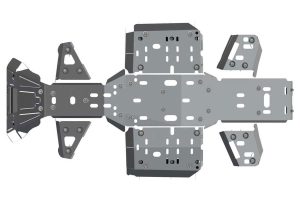 X400/X500 farm spec ALUMINUIM SKID PLATE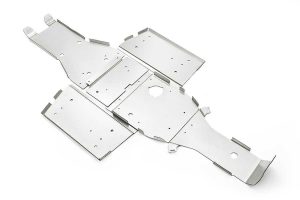 X400 ALUMINIUM A-ARM PROTECTOR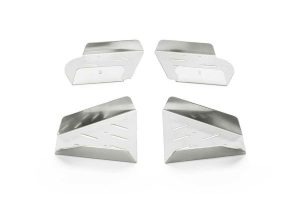 ATV 2500lbs Winch Kit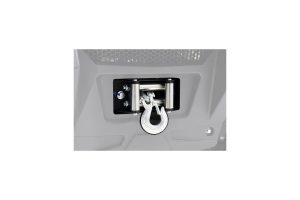 CFMOTO CANVAS SEAT COVER CFORCE 400 / 520 / 520 FARM SPEC ATV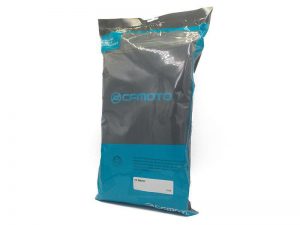 X400 REAR RACK EXTENDER – (does not fit plastic racks)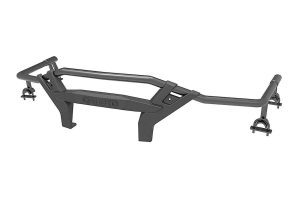 X400 FRONT RACK EXTENDER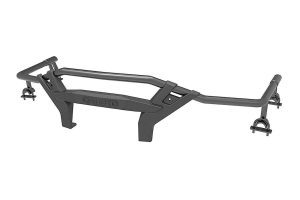 Overfenders CFMOTO X4 , 400, 2016-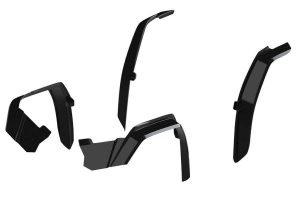 X400 REAR PROTECTOR BAR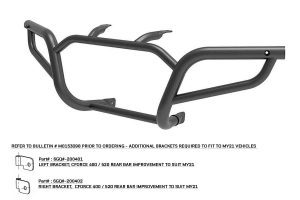 X400 SIDE PROTECTOR BAR (PAIR)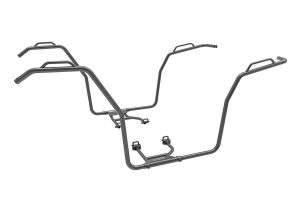 DUAL STAGE AIR FILTER – UNI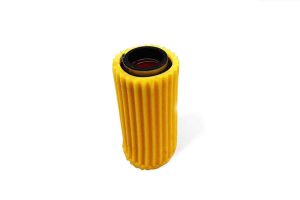 FARMSPEC-KIT – CFORCE 400 / 520 FARM SPEC KIT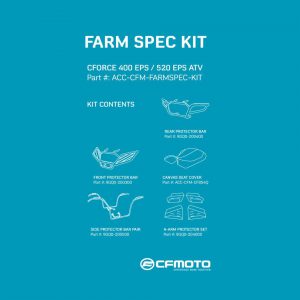 With more power and more features, the CFORCE 520 EPS is the ideal ATV for the farm. Out in the paddock, you'll love the extra power of the bigger engine, electronic power steering (EPS), winch and 12-inch alloy wheels with larger 25-inch, 6-ply all-terrain tyres.
POWER OF A 500.
Powered by a versatile 38 hp, 500cc, EFI, single cylinder 4 stroke engine. Comfortable, easy to use power that can be use across a wide range of work applications or simply open it up and you'll get around the paddocks in no time.
NEW ATV LEGISLATION.
Mojo Motorcycles, the Australian importer of CFMOTO, has introduced an updated range of quad bikes to meet stage 2 requirements of the Consumer Goods (Quad Bike) Safety Standard. If the model is advertised with the 'Quad Bike Safety Standard Compliant' logo, it is compliant with the requirements of stage 2 and will be supplied with a Quadbar OPD. The price shown on this model page is the ride away price for this quad bike fitted with a Quadbar OPD.The Quadbar OPD is installed by your CFMOTO Dealer during pre-delivery. Additional information on Quadbar OPDs can be found at www.quadbar.com
TILT ANGLE.
To comply with stage 2 requirements of the Consumer Goods Quad Bike Safety Standard all CFMOTO quad bikes have been tilt angle tested. The minimum standard to pass the lateral stability tilt angle test is 28.81 degrees. The CFORCE 520 EPS exceeds the minimum lateral stability tilt angle test with a result of 32.6 degrees.
SUPPORT YOU CAN TRUST.
Trusted by more than 25,000 Aussie Farmers, CFMOTO is a brand you can rely on. Backed by a 2 Year Warranty on all ATV and UTV models and supported by an 80+ national dealer network to keep you going 24/7.
OFF-ROAD
Selectable 2WD/4WD
Push button locking front differential
L-H-N-R range and Park
ENGINE & TRANSMISSION
Engine Type: Single cylinder, liquid cooled, EFI, 4 stroke engine
Displacement: 495cc
Max. Power: 38 hp
Max. Torque: 46 NM
Fuel System: Bosch EFI
Transmission: Canadian CVTech
Drive: H-L-N-R-Park
4WD: 2WD/4WD with locking front differential
Rear Differential: Fixed
Steering: Electronic power steering (EPS)
SUSPENSION & BRAKES
Suspension: Double A-Arm, independent
Brakes: Hydraulic disc brakes
Wheels: 12 inch alloy
Tyres: 25 inch CST / 6 Ply rating
CFMOTO
A global manufacturing powerhouse, CFMOTO has been producing quality powersports products for more than 30 years and is the largest exporter of ATVs and UTVs in China. The company's core values are continual improvement, innovation and quality – values that permeate throughout its global distribution network in Europe, north and south America, Canada, Africa and China.
Genuine Accessories Available