TWO UP TOURING.
Genuine Accessories Available
Front Rack Extender; CFORCE 625 EPS / 625 EPS TOURING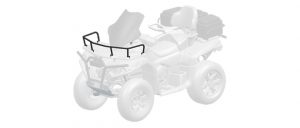 Rear Rack Extender; CFORCE 625 EPS / 625 EPS TOURING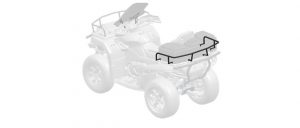 Front Protector Bar with Light Protection; CFORCE 625 EPS / 625 EPS TOURING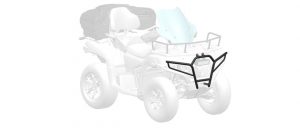 Rear Protector Bar with Light Protection; CFORCE 625 EPS / 625 EPS TOURING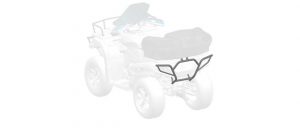 Aluminium Skid Plate Short; CFORCE 625 EPS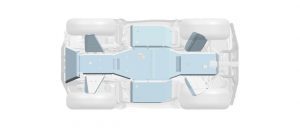 REAR CARGO BAG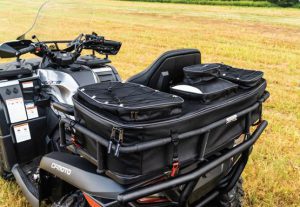 DUAL STAGE AIR FILTER – UNI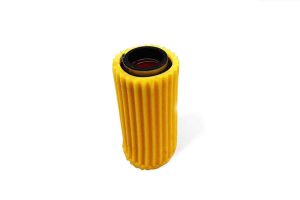 CFMOTO CANVAS SEAT COVER CFORCE 625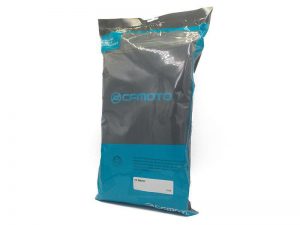 REAR CARGO BOX CFORCE 625EPS / 625EPS TOURING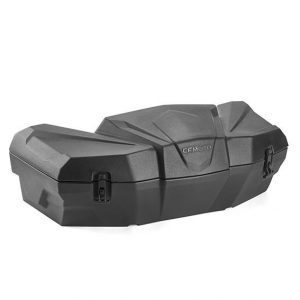 FLEXGRIP TOOL SUPPORT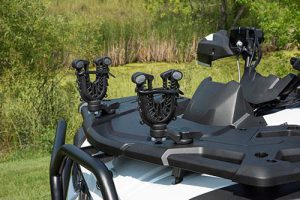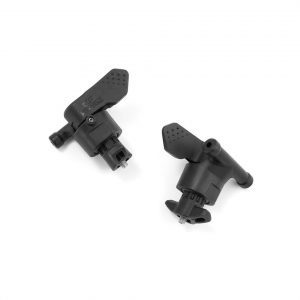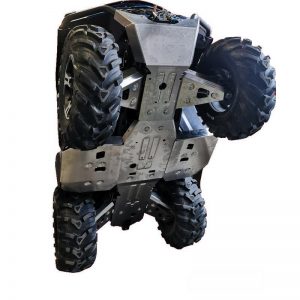 The CFORCE 625 EPS Touring model features the same long list of improvements of the CFORCE 625 EPS including sharp new styling, improved independent dual A-Arm suspension, four wheel hydraulic disc brakes and a tighter turning circle.
The 625 Touring is distinguished by its longer wheelbase for two-up riding as well as a pillion backrest with grab handles, a striking camouflage livery and stylish 12-inch black alloy wheels.
GREATER POWER.
Greater power and greater carrying capacity makes this two seat quad one versatile machine. Powered by a newly designed 580cc engine making it the largest single cylinder ATV in the range.
CHASSIS & SUSPENSION.
Completely new from the ground up, the CFORCE 625 EPS Touring is loaded with new features. Completely new styling, new LED lights, enhanced chassis, newly designed dual A-Arm suspension for better ride performance, class leading tighter turning circle of 7.4m and all new 4 wheel hydraulic disc brakes.
NEW ATV LEGISLATION.
Mojo Motorcycles, the Australian importer of CFMOTO, has introduced an updated range of quad bikes to meet stage 2 requirements of the Consumer Goods (Quad Bike) Safety Standard. If the model is advertised with the 'Quad Bike Safety Standard Compliant' logo, it is compliant with the requirements of stage 2 and will be supplied with a Quadbar OPD. The price shown on this model page is the ride away price for this quad bike fitted with a Quadbar OPD.The Quadbar OPD is installed by your CFMOTO Dealer during pre-delivery. Additional information on Quadbar OPDs can be found at www.quadbar.com
TILT ANGLE.
To comply with stage 2 requirements of the Consumer Goods Quad Bike Safety Standard all CFMOTO quad bikes have been tilt angle tested. The minimum standard to pass the lateral stability tilt angle test is 28.81 degrees. The CFORCE 625 EPS Touring exceeds the minimum lateral stability tilt angle test with a result of 30.7 degrees.
SUPPORT YOU CAN TRUST.
Trusted by more than 25,000 Aussie Farmers, CFMOTO is a brand you can rely on. Backed by a 2 Year Warranty on all ATV and UTV models and supported by an 80+ national dealer network to keep you going 24/7.
COCKPIT
New digital dashboard display
OFF-ROAD
Selectable 2WD/4WD
Push button locking front differential
L-H-N-R range and Park
ENGINE & TRANSMISSION
Engine Type: Single cylinder, liquid cooled, EFI, 4 stroke engine
Displacement: 580cc
Max. Power: 40 hp
Max. Torque: 49 NM
Fuel System: Bosch EFI
Transmission: Canadian CVTech
Drive: H-L-N-R-Park
4WD: 2WD/4WD with locking front & rear differential
Rear Differential: Open rear differential
Steering: Electronic power steering (EPS)
SUSPENSION & BRAKES
Suspension: Double A-Arm, independent
Brakes: All 4 wheel hydraulic disc brakes
Wheels: 12 inch black alloy
Tyres: 25 inch CST / 6 Ply rating
CFMOTO
A global manufacturing powerhouse, CFMOTO has been producing quality powersports products for more than 30 years and is the largest exporter of ATVs and UTVs in China. The company's core values are continual improvement, innovation and quality – values that permeate throughout its global distribution network in Europe, north and south America, Canada, Africa and China.