Genuine Accessories Available
U8 GLASS WINDSCREEN WITH WIPER KIT (WASHER KIT NOT INCLUDED)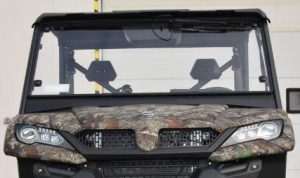 LIMITED EDITION CAMO.
When it's time to play the UFORCE 800 EPS CAMO Limited Edition is up to the task. Loaded with extras including front protector bar; headlight guards; bonnet rack; 3500lb winch – and now in a limited-edition CAMO livery – the UFORCE 800 EPS CAMO LE is sure to please the thrill-seeker at heart.
V-TWIN POWER.
Boasting a reliable 62 hp, 800cc, EFI, V-Twin 4 stroke engine, the UFORCE 800 EPS CAMO LE has plenty of low down power, perfect for towing or low speed manoeuvring. When it is time to play the CFMOTO 800cc twin has plenty of horses to put a smile on your dial. Why not have fun with your mates in the UFORCE 800 EPS CAMO LE.
GO FORWARD.
Smooth riding independent suspension and selectable 2WD / 4WD modes will always keep you moving forward no matter the load or terrain and riders will notice the engine braking from the Canadian CVTech transmission under deceleration.
SUPPORT YOU CAN TRUST.
Trusted by more than 25,000 Aussie Farmers, CFMOTO is a brand you can rely on. Backed by a 2 Year Warranty on all ATV and UTV models and supported by an 80+ national dealer network to keep you going 24/7.
CAMO-LE.
Camouflage colour scheme
Bonus front protector bar
Bonus over bonnet rack
Bonus 3500lb winch
ENGINE & TRANSMISSION
Engine Type: V-Twin, liquid cooled, EFI, 4 stroke engine
Displacement: 800cc
Max. Power: 62 hp
Max. Torque: 72 NM
Fuel System: Delphi EFI
Transmission: Canadian CVTech
Drive: H-L-N-R-Park + Handbrake
4WD: 2WD/4WD with locking front differential
Rear Differential: Fixed
Steering: Electronic Power Steering (EPS)
SUSPENSION & BRAKES
Suspension: Double A-Arm, independent
Brakes: All 4 wheel hydraulic disc brakes
Wheels: 14 inch alloy
Tyres: 26 inch CST / 6 Ply rating
CFMOTO
A global manufacturing powerhouse, CFMOTO has been producing quality powersports products for more than 30 years and is the largest exporter of ATVs and UTVs in China. The company's core values are continual improvement, innovation and quality – values that permeate throughout its global distribution network in Europe, north and south America, Canada, Africa and China.
Genuine Accessories Available
U8 GLASS WINDSCREEN WITH WIPER KIT (WASHER KIT NOT INCLUDED)