BURGER WITH THE LOT.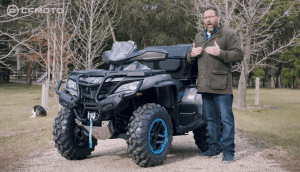 Introduction Video.
Based on the already spec-rich dual-seat CFORCE 1000 EPS, the CFORCE 1000 EPS Overland adds a suite of factory-fitted extras including beadlock rims, front and rear protector bars, LED riding lights, an 8mm full-length skid plate, premium paint, fender extenders and windshield.
Due to the mandatory fitment of an Operator Protection Device (OPD) by the Consumer Goods Safety Standard (stage 2), the CFORCE 1000 EPS Overland will not be sold with the two storage boxes as shown in the video & images.
GRUNT MASTER.
The 963cc fuel-injected V-twin engine produces 75hp (56kW) and 79Nm – the type of muscle that scoffs at any terrain or changes in elevation. The engine is an eight-valve, liquid-cooled design, with Bosch fuel injection.
NO SCAR TISSUE.
With adventure often comes rugged rock, stump and pothole-infested terrain, so that's why CFMOTO has fitted 8mm full-length skid plates made from 8mm high-density polyethylene.
STEEL BUMPER BARS.
Front and rear bumpers made from 38mm steel tube add extra layers of protection. At the front, that means the grille and 18w LED flood lights are protected.
BEADLOCK RIMS OPEN UP NEW POSSIBILITIES.
The ultimate secure fit, allowing the operator to run lower air-pressures for a wider contact patch and increased traction for the beefy 27-inch CST Stag tyres.
SHOW AND SHINE.
The granite finish shimmers with a metallic lustre, highlighted by the electric-blue trim. The all-new graphics are colour-matched to the beadlock rims.
FENDER EXTENDERS.
Pushing through some unglamorous terrain? The fender extenders will help keep you clean and dry.
WINDBREAKER.
The CFORCE 1000 EPS Overland also comes standard with a windshield – just like a touring motorcycle!
NEW ATV LEGISLATION.
Mojo Motorcycles, the Australian importer of CFMOTO, has introduced an updated range of quad bikes to meet stage 2 requirements of the Consumer Goods (Quad Bike) Safety Standard. If the model is advertised with the 'Quad Bike Safety Standard Compliant' logo, it is compliant with the requirements of stage 2 and will be supplied with a Quadbar OPD. The price shown on this model page is the ride away price for this quad bike fitted with a Quadbar OPD.The Quadbar OPD is installed by your CFMOTO Dealer during pre-delivery. Additional information on Quadbar OPDs can be found at www.quadbar.com For further information on the new ATV legislation, please head to our ATV Legislation page in the menu or speak to John at Gawler Motorcycle Centrer.
TILT ANGLE.
To comply with stage 2 requirements of the Consumer Goods Quad Bike Safety Standard all CFMOTO quad bikes have been tilt angle tested. The minimum standard to pass the lateral stability tilt angle test is 28.81 degrees. The CFORCE 1000 EPS exceeds the minimum lateral stability tilt angle test with a result of 33.9 degrees.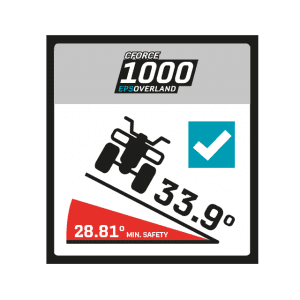 Heavy duty front and rear carrier racks
450kg tow capacity
240kg carry capacity
Tow package
SUPPORT YOU CAN TRUST.
Trusted by more than 30,000 Aussie Farmers, CFMOTO is a brand you can rely on. Backed by a 2 Year Warranty on all ATV and UTV models and supported by an 80+ national dealer network to keep you going 24/7.
ENGINE & TRANSMISSION
Engine Type: V-Twin, liquid cooled, SOHC 8-valve, EFI, 4 stroke engine
Displacement: 963cc
Max. Power: 75 hp
Max. Torque: 79 NM
Fuel System: Bosch EFI
Transmission: Canadian CVTech
Drive: H-L-N-R-Park
4WD: 2WD/4WD with locking front differential
Rear Differential: Limited slip rear differential (LSD)
Steering: Electronic power steering (EPS)
SUSPENSION & BRAKES
Suspension: Double A-Arm, independent
Brakes: All 4 wheel hydraulic disc brakes with combined braking system (CBS)
Wheels: 14 inch Black/ Electric Blue 16 bolt Beadlock rims
Tyres: 27 inch CST Stag Tyres / 8 Ply rating